Det var stor stas i København og Folketinget da Trykkefrihedsselskabets markerte at det nå er ti år siden Jyllands-Posten publiserte de verdenshistoriske tegningene av Muhammed. At flere titalls våpenbærende politibetjenter måtte beskytte arrangementet, er dog den triste sannheten om disse årene som har gått. Frihet er tapt, og den kommer antakelig ikke tilbake i vår levetid.
Rights.no var det første mediet i Norge som fanget opp hva som kunne være under oppseiling allerede 14 dager før tegningene så dagens lys 30.september 2005:
Kunstnere tør ikke illustrere bok om Muhammed
16.09.05: Den danske forfatteren Kåre Bluitgen leverer om to uker en bok om Muhammed, men flere kunstnere har av frykt for vold og represalier sagt nei til å illustrere boken med tegninger. I tillegg er det forfatterens erfaring at mange heller ikke ønsker å skrive om islam. – Jeg har forfatterkolleger, der har sagt, at de overhovedet ikke vil skrive noget om islam, sier Bluitgen i følge Berlingske Tidende.
Vi alle kjenner fortsettelsen.
Det gledelige i dag for oss i Norge, er at redaktør Vebjørn Selbekk, som ble så nedrig behandlet av Stoltenberg-regjeringen og norsk presse, er den som i dag står igjen som vinneren. Nettopp innsatsen til Selbekk gjennom ti år nå, resulterte i Fritt Ords honnørpris denne måneden, og den er også årsaken til at Selbekk var et hovedtrekkplaster i København på lørdag, da en full hovedsal i Folketinget hyllet Selbekk og ytringsfriheten.
Her er talen Selbekk holdt på den internasjonale konferansen, der den tyske storheten Henryk Broder, den kanadiske storheten Mark Steyn, og likeledes den britiske storheten Douglas Murray, delte sine tanker om fortid, nåtid og fremtid.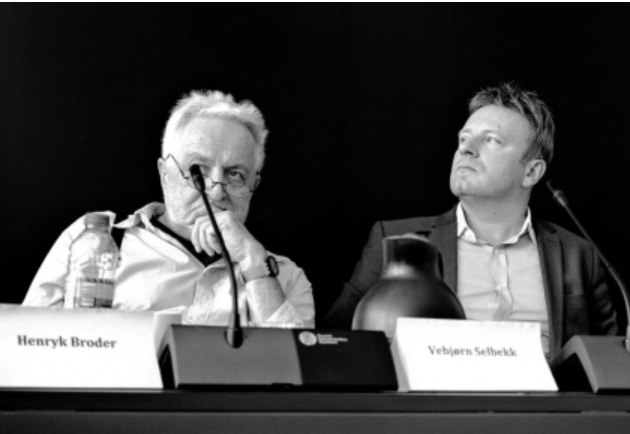 When I searched through my emails in my office in Oslo on the 11th of January 2006, I found some extremely disturbing material. Two pictures were attached to one of the emails. There were photos of a burned body. On the first picture you could see the black mass of human flesh in a casket. Ready to be buried.
The other was a close-up-shot of the persons face. You could almost see the agony of death in his features.
Together with the pictures was a text. It read: «Mister Selbekk. You have to put yourself in this mans situation because of what you have done when you allowed cartoons of the Prophet Mohammad (peace be upon him) to be printed in your newspaper».
This was the first of the fifty death threats that I received in what was to become the Norwegian part of the international Cartoon Crisis. Actually I stopped counting threats when they reached fifty. It could have been more.
The threats were pretty direct. «We will come into your bed room and kill you.» » «Await your death.» Stuff like that.
From one day to another, my family and me went from a quiet and ordinary life to suddenly be standing in the middle of a hurricane. A nightmare in bright daylight.
We had to start to relate to life guards. Police protection. Living on different addresses. And ultimately selling and moving from our home. It was impossible to continue to live there with children aged nine, thirteen and fifteen. The address was compromised on the Internet. We had no other choice than to move.
My "crime"
My «crime» was that I in the early days of January 2006 had reprinted the JyllandsPosten cartoons in my newspaper, Magazinet.
We were working on a cover story regarding islamistic threaths against freedom of speech. We had interviewed leading Norwegian cartoonists. One of them was Finn Graaf.
He is maybe the hardest hitting cartoonist in the history of the Norwegian press. One of his specialities is drawing Israeli prime ministers as Holocaust camp guards. He has done that with almost every Israeli prime ministers since Menahem Begin in the late 70ties.
But mister Graff told us that he would never draw the prophet Mohammad. Not because he had more respect towards the Muslim faith than other religions or ideologies. No, he bluntly put it this way in the interview: «I have to draw the line somewhere. I do not want to get my throat cut.
Therefore I will refrain from drawing Muhammad». I thought this was very interesting. It was provoking. I had to ask myself; -was this really a right thing to do? To give Islam a form of special treatment because some muslim believers threathen people and perform acts of violence and terror?
At the same time we had heared about twelve cartoons of Muhammed in Denmarks leading newspaper JyllandPosten. There was some controversy. There had been some minor demonstrations.
Ambassadors from muslim countries had tried to protest to prime minister Anders Fogh Rasmussen, but he would not receive them. We have nothing to discuss. Denmark is a country of with free speech and a free press, he said.
In this cover story we also wanted to write about these controversial cartoons. We interviewed Carste Juste, the editor-in-chief of Jyllands-Posten. We wrote an article about what at that time looked like an emerging, but still local cartoon controversy in Denmark.
And then the question that journalists ask every day arose:
Do we have pictures? If this had been a story about almost any other topic ,this question would not even had to come to the editors desk. Show, don't tell. That is a fundamental thing for us journalists. We write about the Danish cartoons. Then let us show our readers what the cartoons look like.
But it was not that simple this time. For the first time in my career as an editor I had to consider new and quite unpleasant questions. Could printing this material be dangerous for me? Would someone threaten me? Could someone try to kill me? My family? The newspaper?
In the news rooms many decisions are taken in couple of seconds. But the decision to reprint the Muhammed cartoons was not among them. Actually we used two-three days to consider what to do.
It became almost like a matter of conscience for me. I thought that if I chose not to print the cartoons I had in reality given the terrorists and extremists a veto. In a free newspaper. In a free country.
I would have accepted that terrorist should be a part of the editorial decisionmaking. I would have given them a place around the table. You do not want us to publish this material. And you are prepared to use violence to punish us I we do? OK, then. Let us not publish the cartoons.
I felt that that I could not – and would not – back down to such threats. And therefore, on January the 10th 2006 the Mohammed cartoons were publish in my newspaper, Magazinet.
And almost immediately the death threats started pouring in. Like a black wave of hate. The powers of extremist islam was unleashed. And I was standing in the middle of it all. It was such a surrealistic feeling. Like looking at the situation from the outside.
The shamefuld behaviour of the Norwegian Labour
What makes the Norwegian Cartoon Crisis so special is also the behaviour of the Norwegian Labour government. In my opinion, it was a shameful. They deliberately picked me as their scapegoat. They were prepared to sacrifice my family and me to make peace with the extremists in the Middle East.
You cannot find any other examples in Western countries of situations during the cartoon crises where governments put this kind of pressure on one newspaper. And on one editor.
From the very beginning the government chose to divide the responsibility for the crisis between the extremists on one side and me on the other side. In one of his first statements the foreign minister of Norway, Mr Jonas Gahr Støre, actually used the expression «extremists on both sides».
It was easy to understand what he meant. Those who burn flags and threaten with violence in the Middle East are extremists. But we are no better here in Norway. We have our own extremists. Homegrown extremists. People like Mr Selbekk, who publish cartoons of Muhammed, Islams holy prophet.
And when the Danish and Norwegian embassies in Damascus were attacked and burned down on the 4th of February, our Prime Minister Jens Stoltenberg made the same comparison.
In a statement given to Norways biggest newspaper Verdens Gang. He said that Selbekk was partly responsible for the attack on the embassy. He stated that the printing of the cartoons was «a wrong thing to do». But the demonstrators should not react with violence to this wrongdoing by the Norwegian editor, he said.
Remember that these remarks from the Prime Minister came in a situation where the death threats against me poured in on a daily basis. Of course this made the security situation much worse for my family and me. I felt like I was an official enemy of the state by the head of government.
This is the man who is partly responsible for the worst attack against Norwegian property in foreign countries since World War II. I felt like the Prime Minister pointed his finger at me and almost made me a legal target.
Mr Stoltenbergs remarks represent my darkest hour during the cartoon crisis. The pressure was almost unbearable. The death threats. The political pressure. And the continous hunt by domestic and foreign media.
It is not a given fact that I would come out of this with my life, health and marriage intact. But I did.
I don't regret
I am often asked the question of whether what I did was worth everything my family and I had to go through. I really want to say 'yes' to that question. This is because I find these values so important and fundamental.
And being the son of a refugee from Communist East Germany I have first hand experience of what a society becomes when freedom of Speech is suppressed and denied
My mother was born in Communist East Germany. Or the almost mockingly so called German Democratic Republic.
I 1957 my grandmother took her children with her and fled from East Germany to create a new future in the free world.
Mom was ten years old when she arrived in Norway as part of a Red Cross program for children living in refugee camps in West Berlin. What was supposed to be a nice Scandinavian summer away from the dull life as a refugee, well, she is still living in Norway.
As a child and also in my early youth I visited East Germany a lot of times. My grandparents were divorced. And grandfather stayed in GDR when his ex-wife and two children secretly left to flee to the west. My grandfather lived the rest of his life there and we used to visit him during the summers and other holidays.
My experience with Communist Germany has influenced me a lot. It has shaped some of my views on politics. And certainly my views on human rights, not least the freedom of speech.
In GDR people did not dare to speak their minds. This was in many ways a given fact. Something everybody knew and everybody related to. It was not that the East Germans didn´t have strong opinions. About the government. About communism. About the ban on traveling.
Most people had a lot they wanted to say on this topics. But they kept their mouths shut. They feared the consequences. They feared the secret police, Stasi – Ministerium für Statssicherheit.
I myself can also remember this uneasy feeling that you could experience everywhere in East Germany. It was almost as it was a part of the air you breathed.
Even within the walls of the house we stayed, the private home of our relatives. We had to ask: Who could hear us? Were we being bugged? Were our phone calls being caught on tape?
Today there are few things that provoke me more – make me more angry – than this. That people should feel fear about expressing their opinions. In my view this use of fear mechanisms to suppress free speech are actually expressions of a totalitarian way of thinking
Yes, as I see it, it is the very trademark of totalitarian ideology. And that is the case whether these demands and limitation of the Freedom of Speech is being defended by political arguments. Or by religious arguments. In post communist Europe – in our time – the emphasis is on this last point. Religiously backed threaths against free speech.
Growing support to the Mohammed Cartoons
Today I am glad to say that the situation has changed a lot in Norway during the ten years that has passed since the Cartoon crisis. Opinion polls show that a majority of Norwegians now support my decision to reprint the cartoons.
And earlier this week I was awarded the Fritt Ord Honour Award, one of the most prominent freedom of speech prizes in Norway. I was awarded the prize together with Flemming Rose. A great and humbling honour for me.
The way Mr Støre handled the cartoon crisis has today become a political problem him, also in his efforts to become our next Prime Minister.
Ladies and gentlemen!
January 7th of this year was a grim and pitch-black day for Freedom of Speech. The darkest in Europe since the end of World War II.
The terrorists finally succeed with their murderous plans. Twelve people where left in a pool of blood in and outside of a newspaper office in the heart of Europe.
Bullets against pencils
Let us use this day to honor their memory. The memory of Charlie Hebdos's martyrs for the Freedom of Speech.
When it comes to these specific topics: cartoons, blasphemy and certain aspects of the Muslim religion, freedom of speech is under heavy pressure in Europe. In this particular area freedom of speech is under siege in Europe. Just as we in a way are under siege here in this building today. A freedom that has to be protected with machine gun.
We could also describe the situation with different words. More dramatic words. In this area freedom of speech is literary under fire. A rain of bullets. As we have seen in such a dramatic and disgusting way in Paris and Copenhagen this year.
These extremists hate our values, our freedom. And they hate Jews. They use automatic weapons against cartoons. Bullets against pencils.
They kill Jews not for anything they have done. But for who they are. Just as we have seen so many times before in the dark annals of European history.
Let us also use this opportunity today to reflect on the long term consequences of the attacks in Paris and Copenhagen.
The results of the acts of terror against Freedom of Speech are not visible in the short term. In the first few weeks that followed; everyone wanted to be Charlie.
But what happens after the demonstrations? Or after the politically supportive statements? What happens when everyday life return?
Are we then still as determined not to back down? Or will fear and self-censorship slowly but surely make its way in? Will we once again begin to give in? Maybe I shouldn't write this article? Maybe I shouldn't print this illustration? Maybe we shouldn't invite that speaker?
It will create so much hassle, and it could also be dangerous.
The question I am asking in Norway and the question that we should ask all over the Western world is this: Are we choosing freedom or fear in this age of terrorism?
I am worried about the long-term damaging effects that could happen to the Freedom of Speech both in Norway and in Europe. Because now everyone has seen what it will cost to defy the terrorists.
The people who say that they will avenge and protect the prophet with their blood and their lives, and restore his honor wherever it is under attack.
One can no longer say that these are empty threats after January 7th 2015. Editors, journalists, writers, publishers, caricaturists, artists and debate organizers now know that they have to deal with the aspects of threats and fear.
I feel that it is very important that we continue to give a clear answer to those who have made bloodshed into a form of religious duty, and murder into a form of worship. We do this by straightening out backs and not letting ourselves be subdued. We do it by refusing to be threatened into being silent.
Our response to the terrorists must be that we continue to use our Freedom of Speech as we please, and when it is necessary – also in a way that they demand that we do not use it.
If we do not do this – they win. If we do not do this, they will have accomplished what they wanted through their bloody actions. If not, we will have given the terrorists the right to determine our future.
Our Western societies are far from perfect. But the fact that we have built democracies where everyone has the right to say, think, believe, worship, write and draw what they want, is nothing to be ashamed of.
On the contrary! These are universal rights. The fundamentals of a true democracy. Something every human being should experience no matter where in the world he or she lives.
But in todays situation these values are most strongly being defended in the Western societies. And that has made our part of the world the place where people from all around the globe wants to live.
We should be proud of these fundamental values. They are worthy of being exported. And they are worth defending. No matter how much they burn flags and embassies in the Middle-East.
And no matter how much they threaten us with acts of terror.
Thank you all very much!