Med boken Choosing Sharia tilbyr den nederlandske akademikeren Machteld Zee et innblikk i hva som foregår i noen av de offisielt anerkjente shariadomstolene i Storbritannia. Zee beskriver flere episoder fra da hun fikk tillatelse til å observere rettspraksisen i 2013.
Stobritannia har nærmere 85 slike tribunaler, hovedsakelig tilknyttet moskèer. Det er frivillig å ta en sak inn for en shariadomstol, men dommene er rettslig bindende og kan håndheves av britiske myndigheter dersom en av partene ikke etterkommer domstolens avgjørelser. Shariadomstolene dømmer i saker som angår sivile forhold som ekteskap, skilsmisse, barnefordeling, arv og vold i hjemmet. Det er alminnelig antatt at shariadomstolene behandler mellom 300-400 saker i uken.
They are designed to help religious Muslims settle financial, family and marital disputes according to the principles of their faith, as laid down in the 7th century.
To supporters, including many on the Left, such courts provide a unique and valuable service to the Muslim community by helping its members stay true to Sharia law, a legal system derived from the Koran and the rulings of Islamic scholars, known as fatwas.
In keeping with the principles of multiculturalism, critics of Sharia courts therefore almost invariably find themselves accused of Islamophobia.
Det er økende bekymring for at Stobritannias shariadomstoler nærer ekstremisme, underminerer menneskerettighetene og skaper et parallellt rettssystem hvis grunnleggende prinsipper står i motstrid til landets lovverk.
Innenriksmininster Theresa May har derfor tatt til orde for en granskning av shariadomstolene for å sikre at de støtter britiske verdier. I forrige uke leverte en allianse av 150 kvinnerettsgrupper et opprop til statsminister David Cameron hvor de ba regjeringen forby shariadomstolene å oversitte skilsmisse- og andre familierelaterte saker på bakgrunn av at de «nekter sårbare kvinner og barn tilgang til like rettigheter og menneskerettigheter».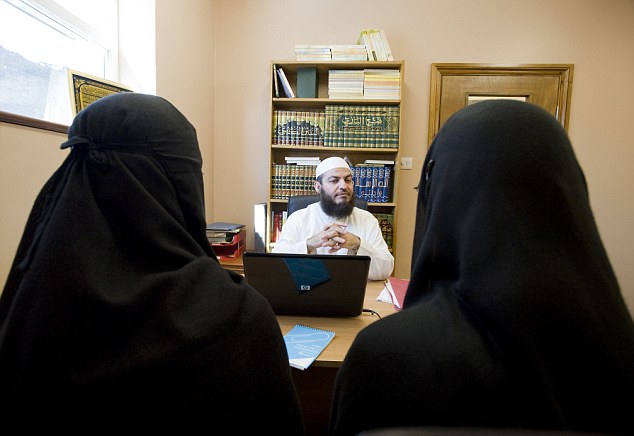 Beskyldningen er ikke grunnløs. Organisasjonen One Law for All har i årevis protestert mot shariadomstolenes virke fordi de diskriminerer kvinner og fordi hensynet til barn ikke teller. Anne Marie Waters i One Law for All forteller at organisasjonen erfarer at det er et massivt press mot kvinner for å godta shariabaserte ordninger; ordninger leder for Domstoladministrasjonen (DA), Tor Langbach for øvrig tok til orde for å innføre i norsk rettsvesen senest i 2011.
Islamsk lov favoriserer hovedsakelig menn, og ifølge Waters blir blant annet politianmeldelser mot voldelige ektemenn ofte trukket etter shariadomstolenes behandling. Likeledes får far tilnærmet automatisk foreldreretten til barna hvis de er over syv år eller hvis mor inngår et nytt ekteskap. Domstolene anser også kvinners vitnemål for mindre verdt enn menns, skrev NRK samme år.
– Britiske shariadomstoler dømmer jo ingen til steining, selv om enkelte muslimske ledere støtter denne tankegangen.
– Men vi er redd for avgjørelser som berører kvinner og barn. Vi har erfart at det er et massivt press mot kvinner for at de skal godta disse shariabaserte ordningene.
– Vi er redd for at kvinner sendes tilbake til voldelige ekteskap etter mekling og avgjørelse i shariarådene. Etter britisk lov har kvinner rett til beskyttelse hvis de er utsatt for vold og mishandling, og ektemenn kan ilegges besøksforbud. Vi vet at islamsk lov favoriserer menn i ulike henseender, og vi frykter at kvinnene ikke får de avgjørelsene eller den beskyttelsen de har rett til, sier Waters.
Zees erfarer det samme.
Sitting in one room, a young Muslim woman tells an elderly cleric about the parlous state of her marriage to a 50-year-old man.
'He oppressed me to the maximum,' she declares. 'He is violent, physically, and treats me like a dog.'
The woman — who looks barely out of her early 20s — describes her spouse as verbally and physically abusive about 'every little thing' she does.
When the husband's around, he forces her to wear a headscarf. When he isn't, which is often, he likes to travel to Tunisia, where she suspects he has secretly married several other women.
For all she knows, she adds, he might have accumulated as many as ten other wives. Fighting back tears, as she finishes this tale of betrayal, the woman glances to the cleric, who has a long white beard, and sits at a raised desk in front of a bookcase full of Islamic texts. Perhaps she's hoping for a supportive smile, confirming she's not at fault. Maybe she's seeking reassurance that the man will hold her misogynistic, wife-beating husband to account.
Instead, the elderly cleric, whose name is Suhaib Hasan, starts laughing. 'Why did you marry such a person?' he chuckles.
En annen kvinne forteller også om sitt miserable ekteskap. Hun ble tvangsgiftet med en illegal innvandrer fra Bangladesh – som dermed fikk britisk statsborgerskap – og har to barn med ham. Han behandlet henne dårlig og stiftet gjeld, og dro så tilbake til Bangladesh hvor han har skaffet seg en kone nummer to. Hun har ikke sett ektemannen på fire år og ønsker skilsmisse. Shariadommeren vil imidlertid ikke gi henne en og gir seg istedet til å forklare henne de «vitenskapelige biologiske begrunnelsene for polygami».
Finally, the cleric, Maulana Abu Sayeed, makes an effort, in the words of the witness, to 'persuade the woman towards acceptance of the marriage in polygamous form'.
This being the 21st century, the woman isn't prepared to play ball. So she leaves unhappy.
Et muslimsk par med flere barn er engstelige for at ekteskapet deres kan være ugyldig. Det er riktignok gyldig etter britisk lov, men de skaffet ikke til veie en religiøs skilsmisse (Talaq) fra kvinnens første ektemann. Ekteparet får servert dette løsningsforslaget på sine problemer at den unge shariadommeren Furqan Mahmood:
Han forklarer at paret må gjennomgå en prosess som kalles Nikah Halala. Den innebærer at de må skille seg, slik at muslimske religiøse ledere i sin tur kan erklære kvinnenes første ekteskap for avsluttet på korrekt vis.
Før hun kan gå tilbake til sin nåværende mann må kvinnen inngå et midlertidig ekteskap med en tredje mann. Kvinnen og den tredje mannen må ha deretter ha sex, skille seg og så må kvinnen vente i tre menstruasjonsperioder. Deretter kan hun gå tilbake til sin nåværende mann og far til sine barn.
This medieval-sounding procedure apparently derives from a passage in the Koran that stipulates it's 'not lawful' for a divorced woman to sleep with her ex-husband 'until after she marries a husband other than him'.
Quite understandably the prospect horrifies the couple.
I forrige uke vurderte det britiske overhuset en ny lov som vil tvinge shariadomstolene til å sikre at alle avgjørelser er kompatible med likestillingsloven.
It would, among other things, prevent them from stipulating that men can be preferred over women in inheritance and property disputes.
Against this feverish backdrop, Machteld Zee's book, which is based on her PhD thesis and will be published in January, makes explosive reading.
The 31-year-old academic, who describes herself as an atheist, was permitted to observe hearings at the Islamic Sharia Council (ISC), the country's busiest Sharia court, based in a converted corner shop in Leyton, East London. The experience — one of the most detailed academic studies of Sharia courts ever printed — led her to conclude they are condemning Muslim women to 'marital captivity' and failing to properly protect victims of domestic violence.
'In a toxic mix of religious fundamentalism, culture and tight-knit communities, Sharia councils uphold the theory and practice of the stronghold men have over women,' she wrote.
During one controversial ISC case, for example, she says a qadi, or judge, refused to intervene even though a woman said her husband was effectively blackmailing her by denying her a divorce unless she gave him £10,000.
In another, she claims that she observed a male judge dealing with an abusive husband. The man was not referred to the police, but instead told to put things right by swearing on the Koran not to mistreat his wife any more.
During a third hearing, Zee saw a judge declare that divorces granted in British courts are worthless to proper Muslims. 'A secular judge does not do religious divorces,' she quotes him saying. 'Can a kaffir [non-Muslim] come in and judge Islamic matters?'
Zee kaller shariadomstolene «institusjonalisert misogyni» og mener at de er opprettet for at islamske fundamentalister kan fremme ideologien sin samtidig som de tjener penger på å la kvinner kjøpe seg frihet.
In minority communities, Zee argues, Muslim women feel heavy cultural pressures to settle personal and family disputes via Islamic rather than normal courts. And, almost invariably appearing before male judges, they often disadvantage themselves in the process.
For example, the first ruling made in 2008 by the Muslim Arbitration Tribunal in Nuneaton (Britain's first Sharia court whose judgments complied with the Arbitration Act, making them legally binding) involved an inheritance dispute between three sisters and two brothers.
The tribunal found, in accordance with standard Sharia principles, the male heirs should be given twice as much money as the women.
Despite her critique of what she regards as institutional misogyny, Zee describes the judges in Leyton as 'very friendly'.
'The problem is not that they were mean, but that the foundation of their justice acts in a system of Sharia Islamic law, in which the principle focus is making women dependent on their husbands and clerics,' she says.
According to Zee: 'One judge said: "Under Islam, we should reconcile marriages even if there is violence." They don't care. It was shocking: they would have you cling to a marriage.'
En representant for Islamic Sharia Council (ISC) tar fullstendig avstand fra Zees beskrivelser, som hun mener ikke stemmer med virkeligheten. Hun legger til at ISC akter å sende en formell klage på Zee til arbeidsgiveren Leiden Universitet og kreve at boken trekkes tilbake. ISCs høringer foregår som regel bak lukkede dører og Zee fikk ikke tillatelse til å gjøre opptak under høringene hun overvar.
Men hvem er egentlig mennene som sitter som styremedlemmer og dommere i de britiske shariadomstolene? En kikk på ledelsen reiser en rekke urovekkende spørsmål, skriver Daily Mails Guy Adams. Flere av dem har over år fremstått som støtter og fortalere for islamsk fundamentalisme, fortsetter han:
One has even expressed a desire to turn Britain into a Sharia state and impose Islamic law on all its citizens.
Take, for example, the late Shaykh Sayyid Matawalli ad-Darsh, who founded the ISC (which is a registered charity) in 1982, stating that he wanted to create 'a quasi-Islamic court'.
Born in Egypt in 1930, he came to the UK in the Seventies as the imam of the Regent's Park Mosque, which later became notorious for its links to extremism.
Ad-Darsh gjorde seg også bemerket ved å opplyse om at det ikke finnes noen minimumsalder for ekteskap, fordi «vergene til barn, både gutter og jenter, har rett til å inngå ekteskapsavtaler på deres vegne.»
Two years before his 1997 death, when he was a trustee of the ISC, he gave an interview saying he 'fully sympathised' with the Muslim Brotherhood, the Islamist organisation whose links to extremism are currently the subject of a review ordered by David Cameron.
Asked about al-Darsh's background, the ISC refused to comment because 'he is no longer here to defend himself', but stressed it 'does not support his views on child marriage'.
Etterfølgeren som president i ISC, Maulana Abu Sayeed, er fremdeles en av tre styremedlemmer og skapte overskrifter i 2010 da han uttalte at menn som voldtar sine koner ikke burde bli tiltalt fordi «sex er en del av ekteskapet». Han la til at kvinner som ble voldtatt ikke burde oppsøke politiet umiddelbart. – Mange av dem lyver, hevdet han, «fordi de har fått denne idèen om såkalt likestilling, like rettigheter.»
Medgrunnlegger av ISC, fortsatt styremedlem og shariadommer Saykh Suhaib Hasan er lysten på å innføre sharialov for hele Storbritannia. Hva steining som straff for utroskap gjelder, mener Hasan at det bare trengs èn offentlig steining for å få folk til å slutte med denslags. Han meldte seg imidlertid ikke frivillig for å bedre samfunnets moral:
Then there is Shaykh Suhaib Hasan, the ISC's co-founder who remains a trustee, sits in judgment in its courts, and was also observed by Zee. In 2007, he made headlines following a Channel 4 documentary called Divorce Sharia Style, in which he appeared to express a desire to impose Sharia law on the UK.
'If Sharia law is implemented, then you can turn this country into a haven of peace,' he argued, 'because once a thief's hand is cut off, nobody is going to steal. Once, just once, if an adulterer is stoned, nobody is going to commit this crime at all.'
More recently, Hasan appeared on YouTube giving a talk about The Protocols Of The Elders Of Zion, a hoax document about Jewish world domination which is often quoted by Islamic fundamentalists and other anti-Semitic conspiracy theorists.
When asked about Hasan's world view, the ISC's representative claimed his comments on Sharia 'were in the context of an academic discussion of classical Islamic law', and denied that he really supports the 'introduction of Sharia law in Britain'.
They added: 'Shaykh Hasan has completely retracted his views on the Protocols Of The Elders Of Zion since he learnt that it is a hoax document.'
Og så er det Shaykh Haitham al-Haddad, som frem til i fjor var kasserer i ISC. Al-Haddad omtales som regel som en hatpredikant – ikke uten grunn.
Han er blant annet for kjønnslemlestelse av jenter, kvinner må ikke arbeide og de er underordnet ektemannen som skal adlydes. Jøder er avkom av aper og griser, homoseksualitet er verre enn drap,  frafalne skal drepes, og sex utenfor ekteskap bør straffes med steining. I tillegg mener han at det er jo yngre, jo bedre er det å gifte bort jenter (bare husk å skjule det for myndighetene i Vesten). Han oppildner da også til hat mot muslimer som ikke følger hans budskap.
Han mener for øvrig at muslimer bør herske over hele planeten med islamsk lov.
He openly criticises 'the scourge of homosexuality', and has had talks at a number of universities postponed and cancelled.
Haitam al-Haddad er naturlig nok en populær foredragsholder for den salafistiske organisasjonen Islam Net, som har invitert ham til Norge flere ganger. Da Universitetet i Oslo i 2013 avslo Islam Nets søknad om å bli studentforening oppga UiO invitasjonene til hatpredikanten som en av årsakene.
Here, then, are just four of the supposedly even-handed men who have sat at the busiest of Britain's 85 Sharia courts, making life-changing decisions that affect the future of hundreds of often vulnerable Muslim women each year.
Asked how their comments reflect on the Islamic Sharia Council, a spokeswoman stressed that the organisation takes extremism very seriously, and denied it condones spousal abuse.
She added that three of the Leyton court's seven judges have recently been replaced 'after complaints were made' about them.
One of them, it turns out, was al-Haddad, 'whose views do not in any represent the ISC'.
But Suhaib Hasan and Maulana Abu Sayeed seem harder to shift.
Earlier this year, they became the registered owners of the Council's Leyton headquarters — proof, critics will no doubt observe, of where power in this increasingly controversial system of justice really lies.
Daily Mail: Inside Britain's Sharia courts: There are now EIGHTY-FIVE Islamic courts dispensing 'justice' across the UK. This investigation into what really goes on behind their doors will shock you to the core