The Institute for Muslim Community Development står bak manifestet som nylig ble lansert i det britiske parlamentet. Det noe overraskende for meg er at dette instituttet ved første øyekast fremstår som ganske liberalt, med medlemmer som er "intellektuelle, tenkere akademikere, artister og profesjonelle", som det heter på instituttets webside.   Like fullt er det er fullstendig overordnet fokus på muslimer som offer, som "lidende", og løsningen er at Storbritannia må tilrettelegge for omskjæring, halalmat, religiøs bekledning (inkluderer dette også niqab?), og religiøse helligdager. Videre må Storbritannia løfte frem tidligere synder, "undertrykking og folkemord" mot "muslimske folk" utført av "britiske og europeiske folk".  Hvilke folkemord dette handler om, får vi ikke vite. Det sies heller ikke et ord om folkemord gjennom historien begått motsatt vei, og de er det som kjent særdeles mange av, og de pågår her og nå mot religiøse minoriteter eksempelvis i Den islamske staten, der britiskfødte krigere, anført av Jihadi John, er fullt operative som bødler.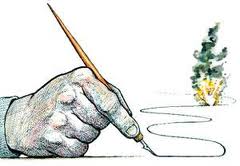 Manifestet søker å kneble mediene, det promoterer en islam som styrer alle aspekt ved en muslims daglige liv, det ber om hjelp til å løfte muslimer ut av fattigdom, inn i arbeid, ut av kriminalitet, samtidig som det ber myndighetene om å løfte frem muslimers økonomiske bidrag til det britiske samfunnet. Samtidig bes det om at muslimer må få større tilgang til medbestemmelse i sikkerhetstjenesten, og at det britiske samfunnet ikke må se muslimer som en sikkerhetsrisiko.  Ja, man blir svimmel.
Det er i det hele tatt en forbløffende liste over krav som alt peker i en retning: å avsondre muslimene fra det britiske samfunnet, der den islamske identiteten er i fokus, der "islamske verdier" løftes frem (vi får ikke vite hva disse verdiene er), og der det ikke sies et eneste ord om britiske verdier, ei heller utvises det noen som helst ydmykhet overfor hva det britiske samfunnet har stilt opp med av ressurser og vennlighet overfor nye grupper i landet og hva de selv skal bidra med.
Snedig nok oppfordrer manifestet innledningsvis til at myndighetene også må hjelpe andre lidende grupper til å "oppnå deres rettigheter".
Her er manifestets 33 punkt/krav:
The Institute for Muslim Community Development suggests the following points in no particular order for a Muslim Manifesto. Note where the suffering of the British Muslim community and its demands mirror those of other communities we would fully support them in achieving their rights.
We would ask our parliamentary friends to:
Defend the right to a Muslim way of life, including halal meat; religious clothing; circumcision; and flexible working to accommodate Ramadan and festival observance.
Oppose all forms of hate crime, including Muslim-hate, Anti-Semitism and all other types of racism, whilst also promoting and enhancing community safety.
Promote good relations, understanding and cooperation between all of the UK's communities.
Support efforts to accurately remember Muslim and non-Muslim histories including oppressive and genocidal actions against Muslim peoples by British and European peoples.
Commit to ethical British foreign policies that uphold the human rights of all peoples.
Affirm the importance of faith schools within the overall provision.
Support the provision of religiously and culturally sensitive youth and social care services.
Promote a more just and sustainable future in the UK and abroad; supporting efforts to tackle poverty, environmental degradation including climate change, human rights abuses and the misuse of arms.
Celebrate and support Muslim heritage and cultural institutions.
Eliminate the root causes of institutional discrimination against Muslims and introduce tougher legislation to prevent it.
Significantly reduce poverty in Muslim communities.
Reduce higher than average unemployment in Muslim communities.
Reverse rising criminalisation of Muslim youth.
Boost secular educational attainment of Muslims in Britain.
Significantly improve health and well-being in Muslim communities.
Provide assurance and evidence that foreign funding is not causing/promoting violent extremism in the UK.
Introduce more robust legislation to curb media hate campaigns against Muslims.
Guarantee the Muslim community the opportunity to evolve independently of government social engineering programmes.
Acknowledge that the holy scripture of Muslims (the Qur'an) does not endorse terrorism and the murder of innocents.
Acknowledge and celebrate Muslim contributions to knowledge and civilization including European civilisation.
Support all reasonable measures not to view Muslims with suspicion and through a security perspective.
Encourage enquiry into the effects of oversexualisation of public spaces upon young people.
Support the introduction of more rigorous and analytical religious education in all British schools that takes a balanced and critical approach to all the major world religions.
Provide more holistic and relevant curriculums in schools with a high proportion of Muslims pupils.
Support a holistic improvement of faith school education and stop the current securitization agenda.
Support greater development of the Muslim arts and cultural sector to nurture more mainstream Muslim cultural leaders and role models.
Allow Muslims greater access to decision-making processes in the security services.
Recognise Muslims have a distinct 'way of life' (deen) which opposes any understanding of religion or faith as separate from other aspects of life.
Withdraw all economic, military and other support for oppressive governments in Muslim and non-Muslim countries.
Promote the positive shared Abrahamic history of Moorish, Christian and Jewish culture in Europe.
Highlight and promote the Muslim Diaspora's contribution to the British economy.
Encourage the development of a 21st century Muslim ideological narrative conducive to living peacefully in the West whilst remaining true to the values of Islam.
Oppose all unfair exploitation of resources owned by Muslim and non-Muslim countries.
I Norge har vi også fått presentert et muslimsk manifest, signert Ayatollahtilhengeren Trond Ali Lindstad.