Den anerkjente kvinnelige yezidi-sangeren Xate Shingali har fått spesialtillatelse fra den kurdiske presidenten til å danne en militærbataljon bestående av yezidi-kvinner. Så langt har 123 kvinner mellom 17 og 30 år meldt seg, alle i håp om å gå i kamp med terrororganisasjonen Den islamske stat (IS).
– De voldtar oss. Vi dreper dem, sier kvinnene i bataljonen Sun Girls, som trener sammen med kurdiske krigere.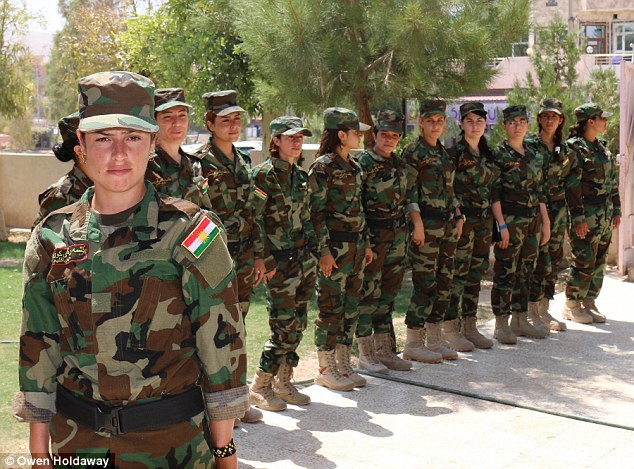 Sun Girls. Bilde fra Daily Mail.
The women of an all-female Yazidi batallion is risking death – or worse – to fight back against the ISIS thugs who abducted, raped or murdered thousands of their people.
They were brought together by a renowned Yazidi s nger Xate Shingali, who formed the 'Sun Girls' batallion to take on Islamic State on the battlefield in Iraq.
Hvis de blir fanget av IS, vil de bli drept eller mest sannsynlig ende som de islamske ekstremistenes personlige sexslaver.
Even the youngest, just 17, brushes off that terrifying prospect, adding: 'Even if they kill me, I will say I am a Yazidi.'
IS har kidnappet tusenvis av Yazidi-jenter og -kvinner for å skaffe seg sexlaver både som personlig underholdning og for rekrutteringsformål.
De som har unnsluppet har fortalt om ubeskrivelige grusomheter, voldtekter og seksuell mishandling begått av IS-krigerne de enten ble tvunget til å gifte seg eller solgt til IS` slavemarked.
I forrige uke vakte Rukmini Callimachis artikkel i New York Times om IS systematiske voldtekter av kvinner og mindreårige internasjonal oppsikt og avsky. Slavebindingen og voldtektene er blitt en stor del av IS` fundament og radikale teologi siden islamistene formelt gjeninnførte slaveri som samfunnsinstitusjon i august 2014.
Angrepene mot den religiøse minoriteten yezidiene i Nord-Irak var planlagt i forveien nettopp for å skaffe sexslaver. Menn og gutter blir ført vekk og skutt, mens barn, jenter og kvinner kidnappes. De blir senere fordelt mellom IS-krigerne som krigsbytte, men blir også flittig brukt som redskap for å rekruttere frustrerte menn hvis tilhørighet til konservative muslimske samfunn gjør det vanskelig å oppnå sex utenfor ekteskapet.
Sexhandelen med yezidiske jenter og kvinner er så systematisk og omfattende at det er skapt en hel infrastruktur for å håndtere den, med alt fra varehus hvor ofrene blir holdt, inspisert og markedsført til transport, prislister og salgskontrakter.
Til sammen 5270 yezidier er blitt bortført og minst 3.144 er fortsatt i fangenskap.
De som har unnsluppet har fortelt om hvordan IS-medlemmene voldtar til og med mindreårige jenter – og ber til Allah både før og etter.
– Rett før han voldtok den 12 år gamle jenta, tok IS-krigeren seg tid til å forklare at det han snart skulle gjøre ikke var en synd. Fordi den mindreårige jenta praktiserte en annen religion enn islam, ga koranen ham ikke bare rett til å voldta henne – den godkjente og oppmuntret til det, insisterte han.
– Han bandt hendene hennes og kneblet henne. Så knelte han ved siden av sengen og henga seg til bønn, før han kravlet oppå henne. Da det var over, knelte han i bønn igjen og omsluttet voldtekten med religiøs hengivelse.
– Hele tiden sa jeg at det gjorde vondt og at han skulle stoppe, forteller jenta, hvis kropp er så liten at en voksen kan omslutte midjen hennes med hendene. – Han sa til meg at han i henhold til islam har rett til å voldta en vantro. Han sa at han kom nærmere Allah ved å voldta meg, sier jenta i et intervju.
Den yezidiske kvinnetroppen har mao mye å hevne, ikke minst drepte ektemenn, fedre, sønner og brødre.
Xate Shingali, 30, who performed traditional Yazidi folklore music all over northern Iraq, was granted special permission to form the unit by the Kurdish President.
She formed the brigade on July 2 and has since recruited 123 female fighters aged between 17 – the minimum age required to join – and 30.
Bataljonen trenes opp i våpenkamp av kurdiske krigere .
She added: 'We have had only basic training and we need more… But we are ready to fight ISIS anytime.'
Xate's youngest recruit, Jane Fares, 17, escaped from Sinjar mountain with her brother and sister when ISIS laid siege to the entire region.
The softly spoken teenager, who has only just joined the unit, said her family is very proud of her, adding: 'My father was so happy when I had told him I had joined this union.
'All families accept us to join this union… We are happy to fight along side the peshmerga.'
She said: 'Before I was scared, now I cannot be scared of them. Any second they tell us to fight ISIS I am ready… I hope to kill them all.'
Fares viser til IS` halshuggingsvideoer og legger til: «Hvis de dreper oss sånn, dreper vi dem sånn.»
Another recruit, Hadia Hassan, wants revenge for her father's cousins who is still trapped in ISIS territory and the female cousin who recently escaped the group's adopted capital in Raqqa, Syria, where it is thought to hold vile 'sex slave auctions'.
She told MailOnline that her cousin has been psychologically scarred by the abuse she suffered while in captivity, during which time she was beaten by ISIS fighters.
Hadia, from Khana-son village, added: 'Before what happened [in August 2014], we were safe, but what I have seen happen to all the girls makes me want to fight ISIS.
Hassans far er allerede i de kurdiske styrkene som kjemper mot IS og datteren håper snart å kunne stå side ved side med ham i frontlinjen.
She added: 'My sister wants to fight, but she is too young, 15-year-old, but my father is a peshmerga and he is fighting ISIS in Shingal.'
Hadia – like the other trainees – wants to avenge the thousands of Yazidi lives which were shattered by ISIS's rampage across northern Iraq.
'They kill, but why do that to women, why take mother's from their children?' she asked, 'They don't have any humanity.'
For Haida, and so many other Yazidis, life has been fundamentally changed by ISIS's attack on their community. She said: 'Before I wanted to be a journalist… Now I want to fight with the peshmerga.'
Det er anslått at IS slaktet mer enn 5000 yezidier og fanget 500 kvinner og barn i Sinjar-regionen.
The Yazidis, whose religion has elements of Christianity and Islam, pray to a being known as Melek Taus – which translates to 'Peacock Angel'.
For this reason, ISIS fanatics see them as 'devil worshippers' and under the group's twisted version of Islamic law, give Yazidis the choice to convert to Islam or be killed.
In the next few months, the unit is planning to move to a more permanent base nearer to the battlefront on Sinjar mountain, but they are short of weapons.
Xate håper at europeiske land vil sende våpen og kampfly for å hjelpe dem å bekjempe den islamistiske terrororganisasjonen.
Da IS angrep i august, sluttet mange i de arabiske landsbyene i området seg til terroristene og deltok i overgrepene mot sine yezidi-naboer. Det er ikke glemt:
'The Arabs who joined ISIS betrayed us. We will not let that happen again,' said 24-year-old deputy Adiba Sido, 'They are not human… We are here to avenge and to defend our land.'
Unlike in ISIS, where the men and women fighters are separated, Kurdish fighters are allowed to mix with the opposite gender on the battlefield.
'My sister is also a peshmerga…[and] we can fight like men,' Xate's 24-year-old deputy Adiba Sido, said.
Bataljonen kalles Sun Girls fordi yezidiene anser solen som noe hellig som beskytter dem.
In response to ISIS's attack on the Yazidis in August last year, Xate used her contacts in the Kurdish government to ask for help.
She said: 'I sent a message to Barzani [the Kurdish President]… [And] I made this unit
'We are ready to fight anytime. Take us to Shingal… There is no human rights in Sinjar now, because of the situation.'
Xate says the group is unofficially known as the 'Sun Girls' because the Yazidis believe the sun protects them, adding: 'The sun is something holy.'
And there is a rumour in the Yazidi community that ISIS fighters are scared of being killed by a woman because they worry they will not be rewarded with '72 virgins in heaven'.
'ISIS will never go to heaven,' Xate laughed when asked about the rumour, 'We will kill them.'
Daily Mail: 'They rape us. We kill them': Yazidi singer forms all-female fighting unit to take revenge on ISIS for forcing their sisters into sexual slavery and beheading their brothers