Amerikas litterære elite tar et modig oppgjør med døde journalister, skriver Daily Beasts Michael Moynihan sarkastisk om de amerikanske PEN-medlemmene som forsvarer sin avstandstagen til PENs ærespris til Charlie Hebdo med å sverte ofrene for massakren i januar.
Det begynte med at seks personer trakk seg den amerikanske PEN-gallaen fordi organisasjonen vil hylle det franske satiremagasinet Charlie Hebdo. Begrunnelsen var at de ikke kan støtte måten magasinet «portretterer Muhammed og andre muslimer på». Blant dem var tidligere formann for PEN Francine Prose, som samtidig som hun understreket at hun til enhver tid vil kjempe for en ubegrenset ytringsfrihet opplyste at hun ikke kunne støtte prisen fordi den etter hennes mening gir «uttrykk for beundring og respekt for magasinets innhold og redaksjonelle linje». Hun og de fem andre har siden fått følge av minst 200 PEN-medlemmer.
De aktuelle forfatternes utspill har vakt oppsikt og blitt skarp kritisert av flere verdenskjente kommentatorer og forfattere, deriblant Salman Rushdie.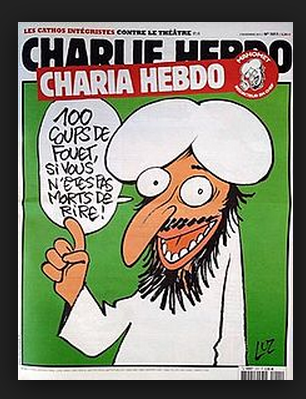 I den påfølgende debatten har flere av dem forsvart seg med å sverte ofrene. Noen har gått så langt som å sammenligne det venstreorienterte og antirasistiske magasinet med Adolf Hitlers Mein Kampf og Julius Streicher's Der Stürmer.
– Hitler. Goebbels. Hebdo. Virkelig? Kan PEN-medlemmene som boikotter tirsdagens Courage-pristildeling til de slaktede franske satiristene virkelig ikke se forskjellen mellom rasisme og å håne rasisme?, åpner Moynihan.
– Charlie Hedbo er tilsynlatende et soleklart valg for en pris som feirer journalistisk mot, tatt i betraktning at magasinet ble brannbombet i 2011 som følge av satire-tegninger av militant islam, levde med tunge, men ikke tunge nok, sikkerhetstiltak og fortsatte å vise fingern til de som truet dets journalister med døden. Men prisen var et solklart valg som irriterte mer enn 200 PEN-medlemmer – Eric Bogosian, Wallace Shawn, Junot Diaz og Peter Carey inkludert – som har respondert på ærestildelingen med en sverte-kampanje mot de døde, fortsetter han.
Charlie stood accused of, among other sins, trading in "selectively offensive material: material that intensifies the anti-Islamic, anti-Maghreb, anti-Arab sentiments already prevalent in the Western world."
It was an odd sight; gauche caviar left-wing writers aligning themselves against slain soixante-huitard left-wing cartoonists, all while expressing sympathy with "devout" religious conservatives "humiliated" and "suffering" because of silly drawings from a low-circulation satirical newspaper.
Some PEN members pulled out of the event. At least one publicly threatened to quit. Others said that while they would attend the gala, the still-mourning Thoret would be treated like Elia Kazan at the Academy Awards, with the objectors remaining seated, grim-faced, hands folded in their laps.
Charlie Hebdo—scourge of the post-fascist political party Front National, enemy of Papists, cheerful anti-racist activists, fellow travelers of the French Communist Party, staunch agitators for Palestine—has been accused of racism and employing crude and offensive satire to "punch down" at an aggrieved minority.
So while we can all agree that the right to free speech is indivisible, is Charlie a racist? Click around a bit—no French skills required—and you'll find out that Charlie is Stormfront with colorful cartoons, a modern Der Stürmer-like tabloid, but one supposedly marinated in the politics of the old-guard left. A day after the attack, Slate's Jordan Weissmann did a bit of Googling and discovered that those comparing the dead to "white power" activists had something of a point. Two days after the murders, under the crass headline "Unmournable Bodies," The New Yorker's Teju Cole provided a confused exegesis on French satire, a subject he has previously avoided discussing. Charlie Hebdo, he wrote, was possessed of a "bullyingly racist agenda" and traded in "violently racist" images.
Andre steder har #JesuisCharlie-brigadene fått kjeft for å støtte opp under et anti-arabisk magasin hvis «stab var hvit». Dette punktet ble ikke motsagt av redaktør Moustapha Ourrad fordi han irriterende nok nettopp var blitt myrdet av religiøse psykopater. Zineb El Rhazoui protesterte heller ikke, sannsynligvis fordi hun hadde det for travelt med å sørge over sine døde venner og sette sammen magasinets første etter-blodbadetutgave. Francine Prose, som av de første som trakk seg, uttalte at PENs valg «passer veldig beleilig inn det større politiske narrativet om hvite europeere som blir drept av muslimske ekstremister, hvilket ikke er tilfelle», et punkt familiene til den slaktede Hebdo-staben muligens vil være uenig i, skriver Moynihan.
Even those vigorously defending the PEN decision assimilated the racism narrative. Rob Spillman, head of PEN's membership committee, defended the Charlie Hebdo decision while, just to be safe, dismissing the paper as "gleefully racist."
Det er bare et problem med denne fremstillingen – som oftest kommer fra folk som ikke kan et ord fransk og aldri har lest Charlie Hebdo – den er ikke sann. Lederen for Frankrikes mest populære antirasistiske organisasjon SOS Rasisme, fransk-togolesiske Dominique Sopo, kaller Charlie Hebdo «den mest antirasistiske avisen i landet». Sopo mener at de som anklager hans døde venner for å støtte nettopp de tingene de var lidenskapelige motstandere av, enten er motivert av «stupiditet eller intellektuell uærlighet». Klarere kan det knapt sies.
«Hver uke i Charlie Hebdo – hver uke – var halvparten mot rasisme, mot antisemittisme, mot antimuslimsk hat», la Sopo til. At Charlie Hebdo på idiotisk vis har blitt flagget som bigotter har forbløffet franskmennene. At magasinet skal ha vært besatt av islam ble effektivt gruset av to franske akademikere i avisen Le Monde, som påpekte at bare syv at det siste tiårets 523 forsider har dreid seg om islam. 21 angrep kristendommen. Etter en granskning av magasinets politiske innhold leverte de denne dommen: Charlie Hebdo var «unektelig en antirasistisk» publikasjon. Den lille detaljen om at staben var i ferd med å diskutere sin deltagelse på en kommende antirasistisk konferanse da skytingen startet blir knapt nok nevnt, påpeker Moynihan.
But why get bogged down in all this niggling detail?
Few of PEN's critics responded to this counter evidence. When asked on Twitter if he had ever thumbed through a copy of Charlie Hebdo, n+1 editor and what-a-bunch-of-racists petition signatory Keith Gessen admitted that he hadn't. "Nor would my French be up to it if I did. This is more about PEN than it is about Charlie, and I know lots about PEN. :)" In other words, Gessen has a beef with PEN America—likely about how the recipient was chosen—which necessitated signing a petition branding Charlie Hebdo a racist publication.
Smiley face.
Moynihan mener at vi må slutte å late som om denne debatten ikke er fullstendig ideologisk. Da Pussy Riot, kjent for sin høyst ufølsomme tilnærming til religion, fikk en lignende pris fra PEN ifjor, var det ingen som sa et ord:
It's an argument I have heard from other PEN dissidents. But can we stop pretending this debate isn't entirely ideological? The women of Pussy Riot, famously insensitive to the sensitive and religious, received a similar award last year from PEN—and rightfully so—without a word of complaint. And while it's reasonable to argue over who is most deserving of an award, one doesn't often see members of the Academy of Motion Picture Arts and Sciences boycott the Oscar ceremony because The Prince of Tides was nominated for Best Picture. You drunkenly complain about it during the after party.
Et snodig innslag i debatten er avisen The New Yorker's Teju Cole, som foreslo at istedet for å ære Charlie Hebdo, kunne PEN tilby en «anerkjennelse av de kenyanske studentene som ble myrdet for ingen større forbrytelse enn å være universitetsstudenter». Moynihan tar seg imidlertid bryet med å påpeke at islamistorganisasjonen Al-Shabab ikke myrdet 147 uskyldige fordi de hater universitetsstudenter, men fordi de var kristne som ble utdannet «på muslimsk jord». Muslimske studenter ble identifisert av angriperne og etterlatt uskadet.
Flere av de 200 mener at Charlie Hebdo praktisk talt ba om voldelige aksjoner fra ekstremister:
But one can't help but get the sense that Charlie critics won't stand shoulder-to-shoulder with the newspaper not because it is undeserving—it's tough to make the case that its journalists lacked courage—but because they can't muster much sympathy for those who knowingly antagonize Muslims. And those who do should know the consequences. Novelist Deborah Eisenberg, one of PEN's most vocal and least informed critics, said Hebdo's brand of satire was "reckless," like "dropping your lit match into a dry forest." Doonesbury cartoonist Garry Trudeau indulged in his own bit of victim-blaming, saying that "the decision they made" to be satirists, applying religious satire evenly across faiths and denominations, "brought really a world of pain to France." After the 2011 bomb attack targeting Charlie Hebdo's Paris office, a Time magazine writer claimed that the newspaper's editors had "openly begged for the very violent responses from extremists their authors claim to proudly defy."
Andre igjen har kastet alle hemninger overbord og forsvarer sin egen stillingstagen med å sammenligne de drepte journalistene med nazister og Charlie Hebdo med nazistiske publikasjoner som Der Stürmer og Mein Kampf:
Here is celebrated novelist and petition signatory Joyce Carol Oates, herself recently denounced for a series infelicitous tweets about Islam, now safely accusing others of Islamophobia and asking former New York Times journalist Deborah Solomon if she would support bestowing a National Book Award on Adolf Hitler's Mein Kampf. In her protest letter to PEN, Eisenberg wondered if PEN would grant "the award retroactively to Julius Streicher's Der Stürmer and its satirical anti-Semitic cartoons." (In the same letter, she demonstrated a deep misunderstanding of French hate crime law.)
When Francine Prose was asked by CBC Radio if she was comparing Charlie Hebdo staffers to Nazis, she gave a sputtering, contradictory answer: "Well, I'm not…I'm not…you know, not Nazis. Maybe neo-Nazis. I'm not saying that they're…that I would compare them to neo-Nazis, but I also think that many of their cartoons are racist." A few days later, in a conversation with The Nation columnist Katha Pollitt, Prose said she "didn't see a difference" between the anti-Semitic material produced by Nazi propaganda minister Josef Goebbels and the sort published in Charlie Hebdo.
Adolf Hitler. Josef Goebbels. Julius Streicher. Stephane Charbonnier. Perhaps those invoking famous Nazis can't differentiate between spewing eliminationist rhetoric and mocking religious radicals who spread eliminationist rhetoric.
But back once more to SOS-Racisme's Dominique Sopo. In his 2005 book SOS Antiracisme, Sopo outlined the landscape of ethnic hatred in France while also pointing out that Islamists—a generally racist bunch—often escape scrutiny, having learned "to count on a powerful ally: the post-colonial bad conscience."
In its letter to PEN, the now 200-strong dissident faction proved Sopo's point, arguing that "to the section of the French population that is already marginalized, embattled, and victimized, a population that is shaped by the legacy of France's various colonial enterprises, and that contains a large percentage of devout Muslims, must be seen as being intended to cause further humiliation and suffering."
PEN-dissidentene vil muligens holde seg borte fra prisseremonien eller ta et modig oppgjør med den ikke-eksisterende rasismen til 12 døde journalister ved å nekte å klappe for den ene som slapp unna eller rett og slett håpe at neste års mottager av æresprisen har blitt myrdet for ikke-fornærmende journalistikk som står i stil til den amerikanske littærere elitens konvensjonelle meninger, skriver Moynihan og avslutter:
As for Thoret, after the atrocity visited upon Charlie Hebdo in January, he can manage a room half full of the self-righteously misinformed. His comrades are gone; the newspaper is more popular than ever; and his American critics, he sighs, "don't really know what they are talking about."
Daily Beast: America's Literary Elite Takes a Bold Stand Against Dead Journalists