Legitimizing the Groups that Hate You
By Samuel Westrop
On May 21, a representative of a prominent British Jewish charity, the Anne Frank Trust, will share a platform with one of Britain's most notorious anti-Semitic extremists: the Salafist preacher, Abdurraheem Green.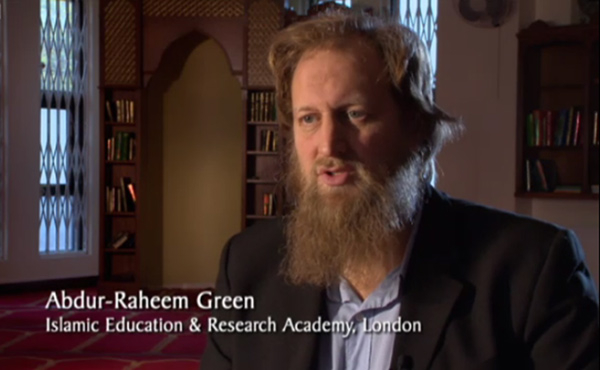 The event, organized by the Islamic Diversity Centre, is named «Against Racism Against Hatred: Tackling Anti-Semitism & Islamophobia.»
The speaker, Abdurraheem Green, has spoken of a «Yehudi [Jewish] … stench» and urged Muslims to «push them [Jews] to the side.» In addition, he encourages men to hit their wives to «bring them to goodness,» and has called for the killing of homosexuals and adulterers.
In addition to Green, Councillor Alyas Karmani will also be speaking at the event. A former member of George Galloway's Respect Party, Karmani has claimed that the «ideology» of «the Yahood [Jews] and the Nasara [Christians]» has «no issue killing women and children.»
Despite these views, Grace Dunne, a representative of the Anne Frank Trust, as well as anti-racism campaigners and Labour MP Jeremy Beecham, seem happy to share a platform with these two anti-Semitic preachers, all in the name of tolerance.
Speaking to the Gatestone Institute, Ms. Dunne said, «I have carried out my own research on Abdurraheem Green and iERA, and remain convinced that speaking at this event aligns with the mission of the Anne Frank Trust to challenge prejudice and reduce hatred. Our goal is to encourage people to embrace positive attitudes towards others; we can only do this by encouraging more connections between those with potentially differing views.»
The event on May 21 is part of a broader «anti-racism» campaign launched by Abdurraheem Green's own Salafist charity, the Islamic Education and Research Academy (iERA).
Green, a convert to Islam, founded the iERA in 2009. The group, which is currently under investigation by the Charity Commission, describes itself as «a global dawah [proselytizing] organisation» that works «to empower Muslims as individuals and local communities to invite and inform people about Islam.»
In truth, the iERA is one of Britain's most extreme Islamist groups.
The iERA's advisory board has included:
In 2013, five members of an iERA youth group, known as the Portsmouth Dawah Team, left for Syria to join the Islamic State terrorist group.
The group running the event later this month, the Islamic Diversity Centre, has organized events with the iERA on a number of occasions. In 2013, the Centre invited the iERA's Yusuf Chambers to speak. Chambers, a confidante of Abdurraheem Green, has expressed support for the execution of homosexuals. In addition, when speaking about the stoning to death of adulterers, Chambers remarked, «May Allah allow us to bring back that punishment to protect all humanity, InshaAllah.»
Why is an extreme Salafist organization organizing an «anti-racism» campaign?
During the past two years, the iERA's extremist activities have received a lot of press attention. In 2013, University College London banned the iERA from its premises after a media furor reported that the group was enforcing gender segregation at student events. The Times has described the iERA as a «hardline Islamic missionary group.» The Daily Telegraph's editorial has warned that the group is sending «extremist speakers to Britain's mosques and university societies.»
In 2014, the Council of Ex-Muslims of Britain published a comprehensive exposé of the iERA. Its report concluded that the organization should be «classified as a hate group because of its persistent promotion of Islamists who preach hate against non Muslims, women, gays, progressive Muslims and ex-Muslims.»
Since then, the iERA has worked to build a façade of moderation, most likely to obscure its extremist beliefs. In recent years, British Salafist groups, in fact, have sought to mimic the tactics of Islamist groups such as the Muslim Brotherhood and Jamaat-e-Islami, which have advanced extremist ideology while simultaneously employing human rights rhetoric.
Along with the iERA's «anti-racism» campaign, then, it has also established a climate change campaign, named «Islam is Green,» as well as a free speech project, titled «Don't Hate, Debate.» It has also supported efforts by other Salafist groups, such as a think tank named Claystone, to paint Salafist ideology as a victim of anti-Muslim prejudice.
The façade is a flimsy one. The iERA has simultaneously continued to send extremist preachers to universities and communities across Britain.
The upcoming event will take place at St James Park, Newcastle's biggest football stadium. It is possible the event will be cancelled once the hosting venue is made aware of what the iERA represents. There is certainly precedent: in 2012, Abdurraheem Green was banned from Arsenal football stadium in London, after complaints made by local supporters.
Well-intentioned activists often treat the notion of «dialogue» as an unassailable good. More often than not, however, Islamist groups merely regard these activists as useful dupes on whom to advance extremist agendas. Unfortunately, as history shows, providing extremists with a platform only serves to legitimize «anti-racism» and interfaith initiatives that openly promote illiberal and anti-democratic agendas.
If anti-racism activists and representatives of the Anne Frank Trust choose to attend the iERA's event and share a platform with Abdurraheem Green, they will simply be handing a powerful cover of undeserved legitimacy to one of Britain's most intolerant Groups.