Dette tegner, midt i det tragiske, til å bli en sann triller av en internasjonal politisk komedie. Fra ekstremregimet Saudi-Arabia hagler det nå med beskyldninger mot Sverige for å undergrave sann islam. Saudi-Arabia følger menneskerettighetene, heter det, og deres straffelovverk er «basert på den hellige koranen og sunna, profetens ord og gjerninger».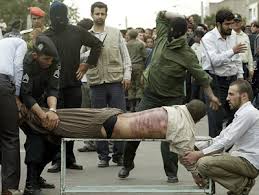 Sveriges radio forteller at den svenske regjeringen ser Saudi-Arabia som en viktig alliert i kampen mot terror, og det understrekes at de to mest hellige moskeene i verden «voktes» av den saudiske kongen. Visste vi ikke bedre!
Wallström har lagt seg fullstendig på ryggen og spreller med både bein og armer.
Utrikesminister Margot Wallström (S) tillbakavisar att hennes kritiska uttalanden om Saudiarabien skulle ha varit en attack mot islam. Samtidigt fortsätter kritiken från arabvärlden mot Wallström, bland annat från Saudiarabiens religiösa ledare. Ekot erfar att regeringen är orolig för att Sverige skall uppfattas som ett antimuslimskt land.
– Jag har sett uppgifter på olika håll om att våra uttalanden skulle ha tolkats som en attack på islam, vilket är direkt felaktigt. Våra uttalanden har handlat om demokrati och mänskliga rättigheter, och det kommer vi också fortsätta att stå upp för, säger Margot Wallström (S).
Med sitt uttalande på fredagen säger Margot Wallström (S) att hon vill understryka att Sverige inte kritiserar islam.
– Det är en uppgift som förekommit i media, som jag känner att det är viktigt att försöka korrigera, säger Margot Wallström (S).
Igår kallade också generalsekreteraren för Gulfstaternas samarbetsråd till sig Sveriges ambassadör i Riyadh, Dag Juhlin-Dannfelt, för en formell protest. Organisationen, där alla stater kring Persiska viken förutom Irak är medlemmar, fördömde den svenska kritiken som «oacceptabel» och hänvisade till principer om respekt för religioner, skriver TT.
Det avbrutna militära samarbetsavtalet med Saudiarabien debatterades i riksdagen under fredagsförmiddagen. Margot Wallström (S) talade då även om Saudiarabiens viktiga roll i världen.
– Saudiarabien är ett viktigt land i en region av stor betydelse för Sverige och Europa. Den saudiske kungen är väktare för islams två heligaste moskéer. Saudiarabien har dessutom en central politisk roll när det gäller till exempel Palestina, Syrien, Irak, Libyen och Jemen, säger Margot Wallström (S).
– Man är på väg att bli en allt viktigare biståndssgivare och är betydelsefull i kampen mot terrorism, fortsätter Margot Wallström.
Margot Wallström (S) hävdar att den senaste tidens debatt om Saudiarabien inte handlat om religion utan om demokrati och mänskliga rättigheter. Wallström säger att Sverige nu använder alla tillgängliga diplomatiska verktyg för att den diplomatiska krisen inte skall spridas.
Lars Hedegaard og Ingrid Carlquist skriver hos Gatestone Institute at betydelige deler av den islamdominerte verden nå snur ryggen til Sverige. Den svenske regjeringen skjelver åpenbart i pengepungen.
As predicted, Swedish Foreign Minister Margot Wallström's criticism of «medieval» conditions in Saudi Arabia has caused great parts of the Muslim world to rise up in anger against her and Sweden, the country she represents.
«Almost the entire Muslim world joins in the criticism of Wallström,» wrote the Swedish national daily Dagens Nyheter on March 19, adding that around thirty Muslim countries have distanced themselves from Wallström's comments. The Arab League has denounced her for criticizing the lack of human rights in Saudi Arabia, and on Saturday the Organization of Islamic Cooperation (OIC), which represents 57 Arab and Muslim states, as well as the Palestinians, accused her of having «degraded Saudi Arabia and its social norms, judicial system and political institutions».
Dagens Nyheter quotes Middle East expert Marianne Laanatza, from the universities of Stockholm and Lund, as saying that Sweden's troubles may escalate. In addition, Middle East analyst Per Jönsson, from Sweden's Foreign Policy Institute, notes that the OIC's reaction implies that almost the entire Muslim world, including Shia Muslim states and countries in Southeast Asia, have now turned their backs on Sweden. Saudi Arabia and the United Arab Emirates have already recalled their ambassadors from Sweden; Per Jönsson fears that others will follow their example.
In response, Wallström held a crisis meeting on March 19 with representatives of around thirty Swedish enterprises that have business interests in the Gulf region. As of this writing, the outcome of the meeting is unknown. Saudi Arabia has already announced that is will deny entry visas to representatives of Swedish companies. Clearly, Swedish enterprises are in significant trouble.
Evidently, Sweden's Foreign Minister was unaware that by criticizing Islamic sharia customs, such as flogging a blogger a thousand times and the ill-treatment of women, she was, in fact, seen as turning against Islam itself.
Gatestone kontaktet Wallströms pressetalsmann, Erik Boman, som ikke visste at dødsstraff for blasfemi og pisking har støtte i Koranen (sic!). Han har heller ikke hørt om den beryktede Kairoerklæringen fra 1990 der OIC underla hele FNs menneskerettighetserklæring sharia. Mens fra svenske UD heter det at Saudi-Arabia har signert FNs universelle menneskerettighetserklæring. Det stemmer jo overraskende ikke.
All in all, there appears to be a genuine but concerning lack of knowledge in the Swedish government about Islam and Islamic affairs.
The prominent Dutch Islam expert, Professor Johannes «Hans» J.G. Jansen — author of an influential biography of Muhammad — said he does not think Margot Wallström knows what she has gotten herself into.
Asked if the Swedish Foreign Minister can criticize Saudi sharia practices such as flogging, and call them «medieval,» without offending Islam, professor Jansen says that this would be impossible.
Gatestone: «But now she claims that it had not been her intention to criticize Islam?»
Jansen: «It makes no difference what she says. In Islam, it is for Muslims to determine whether or not one has criticized their religion. From a Muslim perspective, the Foreign Minister's worst transgression is to have labeled Saudi practices 'medieval.' Muslims never use that term when talking about themselves. They only use it with reference to other parts of the world, for example Europe. The Saudis see themselves as the inheritors and custodians of Islam's Golden Age in the seventh century, which must not be labeled medieval.»
Jansen notes that from a Muslim perspective, any criticism or infringement of sharia law and Muslims' obligation to wage jihad [war in the service of Islam] is a violation of their freedom of religion.
The same, he continued, goes for Muslims' duty to strike terror into the hearts of non-Muslims. Jansen points to the Koran's Sura 8, verse 60:
«And prepare against them whatever you are able of power and of steeds of war, by which you may terrify the enemy of Allah and your enemy and others besides them whom you do not know [but] whom Allah knows. And whatever you spend in the cause of Allah will be fully repaid to you, and you will not be wronged.»
In other words, it is incumbent on Muslims to «terrify» non-Muslims. But strangely, when they succeed, Muslim spokesmen accuse their frightened victims of suffering from «Islamophobia,» and demand that Western authorities denounce and persecute people who are beset by this «psychiatric» malady.
There is nothing, however, to indicate that Margot Wallström and other members of the Swedish government and political establishment have been driven by fear. They have no knowledge of what orthodox Islam is all about and evidently believe that the religion is benevolent and peaceful, but unfortunately hijacked or misinterpreted by evil men.
Wallström understreker nå at Sverige har "den dypeste respekten for islam som en verdensreligion og for bidrag til vår felles sivilisasjon".
Så får vi se hvordan det går med kontoene til Sverige. Det går nok bra, tror jeg, for er det noe verden er, så er det økonomisk ganske så korrupt, og dermed verdimessig korrupt. Men det er jo absolutt mulig at det blir lenge til at Sverige (og andre) pirker bort i barbariet i Saudi-Arabia og dets like. Det var vel hovedintensjonen bak utblåsningen fra mullahpolitikerne?